If i'm going to be specific it has been one month and 23 days since i have had any type of content on my blog. It comes down to the fact i'm just really really lazy! I love reading blogs with daily content and get so jealous when i see super organised bloggers on twitter writing interesting posts and posting most of their outfits, but when i say i like reading these blogs i'm probably sat reading them in my pj's or some holey leggings which lets be truthful is not what anyone needs to see. Basically this is an apology for my lack of updating, i feel stupid saying sorry as i just think who the hell cares but i have still been getting followers even in my dry spell which definitely motivates me, so i'm going to try my best to become a super blogger.
I've had quite a busy social life recently which is rare, i've had a few nights out and had a trip to london the other week which i loved even if i spent most of my time their under london. I can't wait to get back there this week to see BEYONCE!!!! if you can't tell, I'm fairly excited. Before i get to see queen bey though i had this little matter of seeing my favourite boyband for the 11th time. Since i was 12 year old mcfly have ruled my life and it'd feel wrong if i missed any of their tours! I've met up with my friends, who i met through mcfly, every year since 2007 to go and see the boys and we're ever disappointed.
I managed to go a bit goth with my outfit this year and i definitely felt my age waiting in the queue as loads of teenage girls walked past us in teeny tiny shorts and crop tops whilst i stood and complained about the cold!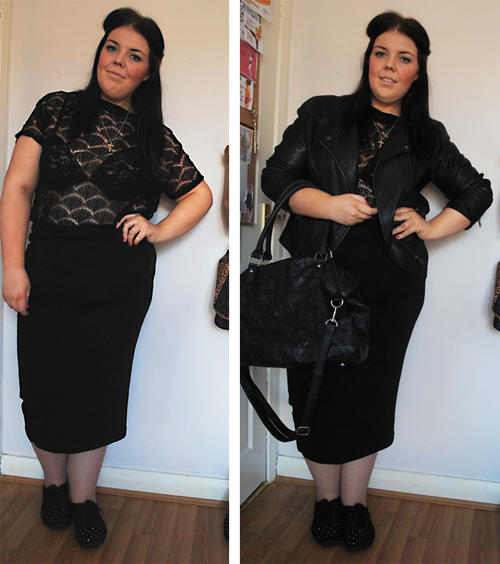 skirt:Internacionale
top:Internacionale
leather jacket: Internacionale
shoes:Primark
bag:Primark
necklace:New look
I am absolutley loving anything tight and midi at the minute. I can't explain to you how amazing i feel in this skirt and i like the fact i have my leg out even if it is just the bottom half. I'm getting there.
I'll leave you with a video of my favourite song from this years tour, if it doesnt make you happy i don't know what will.